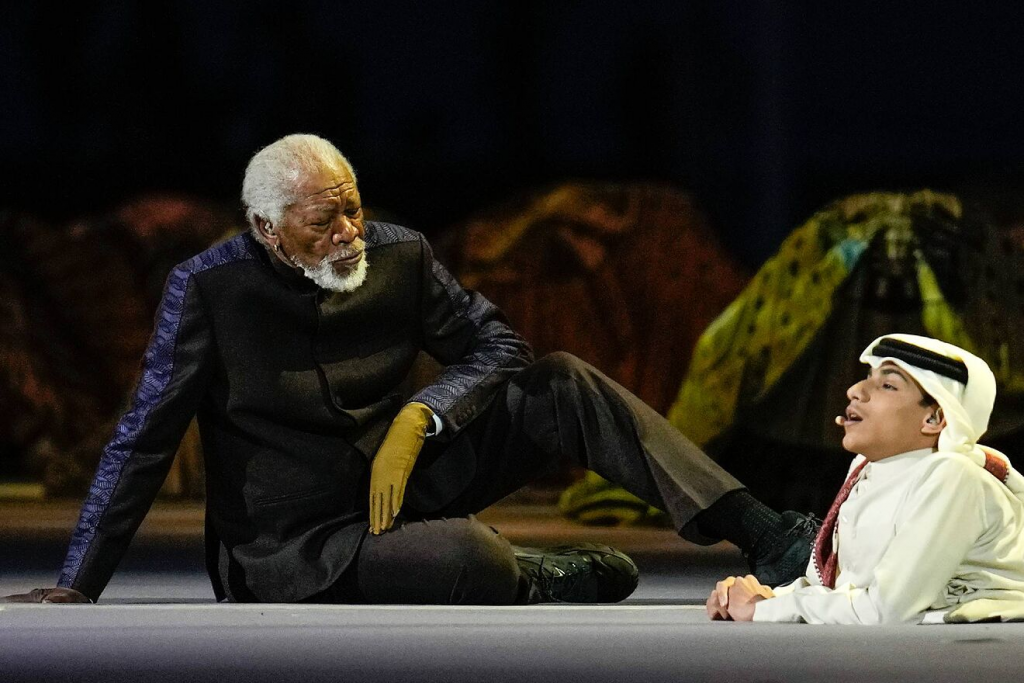 After hosting the opening ceremony of the 2022 World Cup opening ceremony in Qatar amid worries about the country's human rights record, Morgan Freeman has come under fire.
The tournament has been dogged by controversy over the Gulf state's treatment of foreign workers, LGBT+ rights, and social restrictions. Yesterday's opening ceremony of the game featured a stirring monologue from Freeman.
Because of that, several celebrities, including Dua Lipa, Shakira, and Rod Stewart, declined invitations from the tournament's organizers to perform at the opening ceremony at Doha's Al-Bayt Stadium.
Nonetheless, Freeman agreed despite having a net worth that is thought to be in the hundreds of millions. By doing so, he attracted the ire of infuriated commentators who accused him of hypocrisy.
The mystery surrounding host Morgan Freeman's single glove was among many that were raised during the FIFA World Cup opening ceremony, but it hasn't been resolved to this day.
In a ceremony held in front of tens of thousands of empty seats at Doha's Al Bayt Stadium, the disgraced actor and Ghanim al-Muftah were chosen to host the Qatar curtain-raiser.
The 85-year-old veteran actor was seen by viewers putting on an act to introduce the contentious tournament while sporting a single beige-colored glove. He is famously known for the God role in a 2003 movie called Bruce Almighty.
It is a compression glove Freeman needs to wear as he has fibromyalgia. This causes Morgan to experience constant pain due to the nerve and muscular damage sustained since he suffered a broken shoulder injury following a car crash in 2008.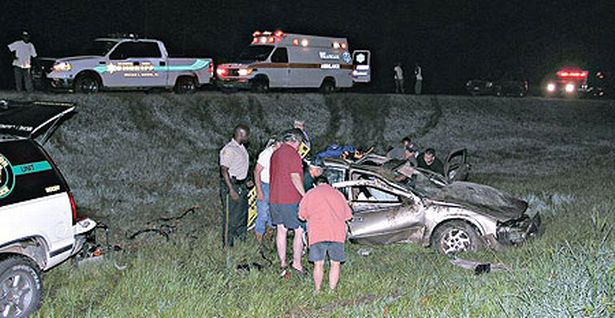 Freeman was lucky to survive the crash, which saw his vehicle hit multiple times on a Mississippi highway.
Since he suffers from severe damage or lesion, the compression glove keeps blood flowing.
'I suffered nerve damage, and it hasn't gotten better. I can't move it,' he said at the time.
'If you don't move your hand, it will swell up. Do you know you move your hand about a million times a day?'
In an interview with Esquire in 2012, interviewer Tom Chiarella explained: "It hurts when he walks when he sits still, rises from his couch, and missteps in a damp meadow.
"More than hurts.
"It seems a kind of agony, though he never mentions it.
"Despite surgery to repair nerve damage, he was stuck with a useless left hand.
"It is stiffly gripped by a compression glove most of the time to ensure that blood doesn't pool there.
"It is a clamp, his pain, an icy shot up a relatively useless limb."
Morgan might have received a cool reception in the Al Khor desert as rows of empty seats greeted him, but the response was warmer on social media.
'Morgan Freeman is that actor everyone loves. He's the GOAT of Hollywood,' brand influencer Dr. King Winter posted.
'His voice is worth $1B, Morgan Freeman,' African pop artist Fancy Gadam added.
'Morgan Freeman understood the assignment,' media identity Gary Al-Smith tweeted.
What did Morgan Freeman say at the World Cup 2022 opening ceremony?
Freeman joined al-Muftah on stage and tried to deliver a message of unity, despite Qatar having a deplorable human rights record, laws forbidding same-sex relationships, and an estimated 6500 migrant worker deaths during the construction of stadiums for the vent.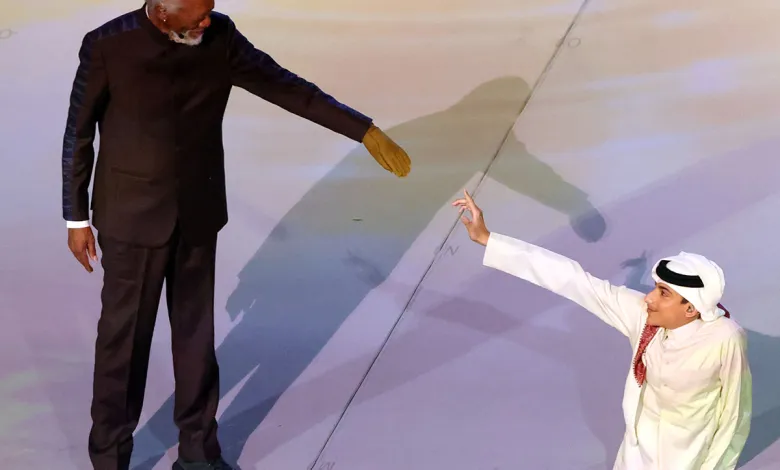 What unites us here in this moment is so much greater than what divides us, Freeman declared during his speech at the World Cup opening ceremony. How can it last longer than it does right now?
Al Muftah is a twin brother born with Caudal Regression Syndrome, a rare condition that prevents the lower spine from developing normally.
Although doctors didn't think he had much chance of surviving when he was born, he has managed to lead a full life in his 20 years and counting, including being named a World Cup Ambassador.
To spread the message of acceptance and diversity, Al Muftah recited verses from the Quran. He aspires to compete in paralympic sports in the future.
He studies politics at Loughborough University while also maintaining a successful YouTube channel.
'I want to send a message of hope, inclusivity, peace, and unity for humanity,' he said, speaking in his capacity as a [Fifa World Cup] ambassador.
Freeman was the original spokesperson for the United States' bid for the 2022 World Cup, which ultimately fell short along with Australia's bid when Qatar narrowly defeated them in highly controversial circumstances.
Therefore, it was a bit of a surprise to see the leading lady of movies like The Shawshank Redemption, Million Dollar Baby, and Seven on stage with al-Muftah.
Eight women accused the actor of sexual harassment and inappropriate behavior four years ago, forcing Freeman to apologize, saying he was sorry to "anyone who felt uncomfortable or insulted." Freeman also expressed regret to the eight women who had come forward.
Sixteen individuals—eight alleged victims and eight witnesses—have claimed that the actor has harassed or mistreated them, including the women who have accused him of sexual misconduct.
Nobody was put on trial.
What have people said about Morgan Freeman's left hand?
Several viewers were unaware of the story behind the actor's hand, taking to social media to find answers.
One wrote: "Why is Morgan Freeman wearing Jaimie Lannister's golden hand, though."
Someone said: "Morgan Freeman has a fake hand, and Qatar has just lectured the world about tolerance"
Another tweeted: "So apparently Morgan Freeman HAS ALWAYS WORN THIS FAKE HAND! Well, it's a glove of some sort.
"He suffered nerve damage in his left hand in 2008. How are we just now noticing"
Many were amazed that they were only learning about his hand now, with one posing the question: "Why am I just now discovering that Morgan Freeman's hand has been paralyzed for years?"
One person asked, "Why am I just now learning that Morgan Freeman's hand has been paralyzed for years?" many were shocked that they were only learning about his hand now.