Dominique Metzger, a female Argentinian reporter, was robbed on live TV as she was reporting world cup news. All her valuables, such as her wallet, napkins, documents, and money, were taken from her bag as she broadcasted the FIFA world cup. 
The Argentine reporter was broadcasting live near the Corniche area of Doha in the build-up to the first FIFA world cup match before her items were stolen. She told her 2022 world cup news network Todo Noticias (TN) that the authorities promised to help her get her stolen properties back.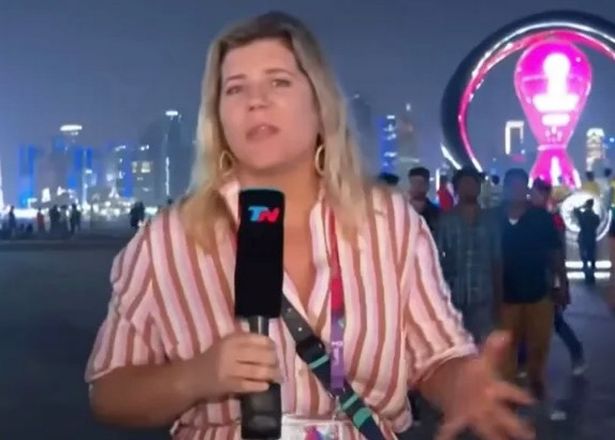 According to the Argentine journalist, she was dancing with the world cup fans that came to the tournament before someone reached for her bag and stole her items. The news reporter robbed on air said that the authorities' response after she reported to them was shocking. She also cited some issues regarding gender.
"I had my small bag on me with all the things that one needs, my wallet, the keys to our hotel room, some napkins," the news reporter robbed on air told her network anchor.
Her anchor asked her if she was dancing before the incident happened, and then she answered," Yes, I was dancing with the crowd, and I'm convinced that it was at that moment when someone opened the bag zipper and took my wallet."
"I didn't realize at that moment, you know you're live on air, with music and crowds around you, and I was focused on you talking to me too. So I wasn't paying attention.
"After I finished my live report, I wanted to take my wallet to buy a water bottle, and then I realized I didn't have it," she recounted.
The Reporter Was Shocked at Qatar Authorities Response
The reporter said that she was shocked at the response of the Qatar police authorities when she reported the incident to them. World cup news now also highlights this incident, as many people want to know how the Qatar government wants to handle issues like this.
According to reports, the government of Qatar has installed more than 15 thousand cameras around all the stadiums for the world cup. 
The 2022 world cup news reporter said that when she went to the authorities to report what happened, they told her to go away because she was a woman. When she insisted on her wallet and other important documents, she was told to wait for her belongings to appear.
According to her, the authorities had asked, "What do you want justice to do about this? We will find the wallet… We have cameras everywhere, high-tech cameras, and we will find the thief with face detection technology. What do you want the justice system to do to them when they are found?"
They also asked her," Do you want us to sentence him to five years in prison, to be deported?"
She said she was confused by such a question and had told them they should do their work as the government authorities. She added that the male policemen there had asked her to go to a place specifically made for women.