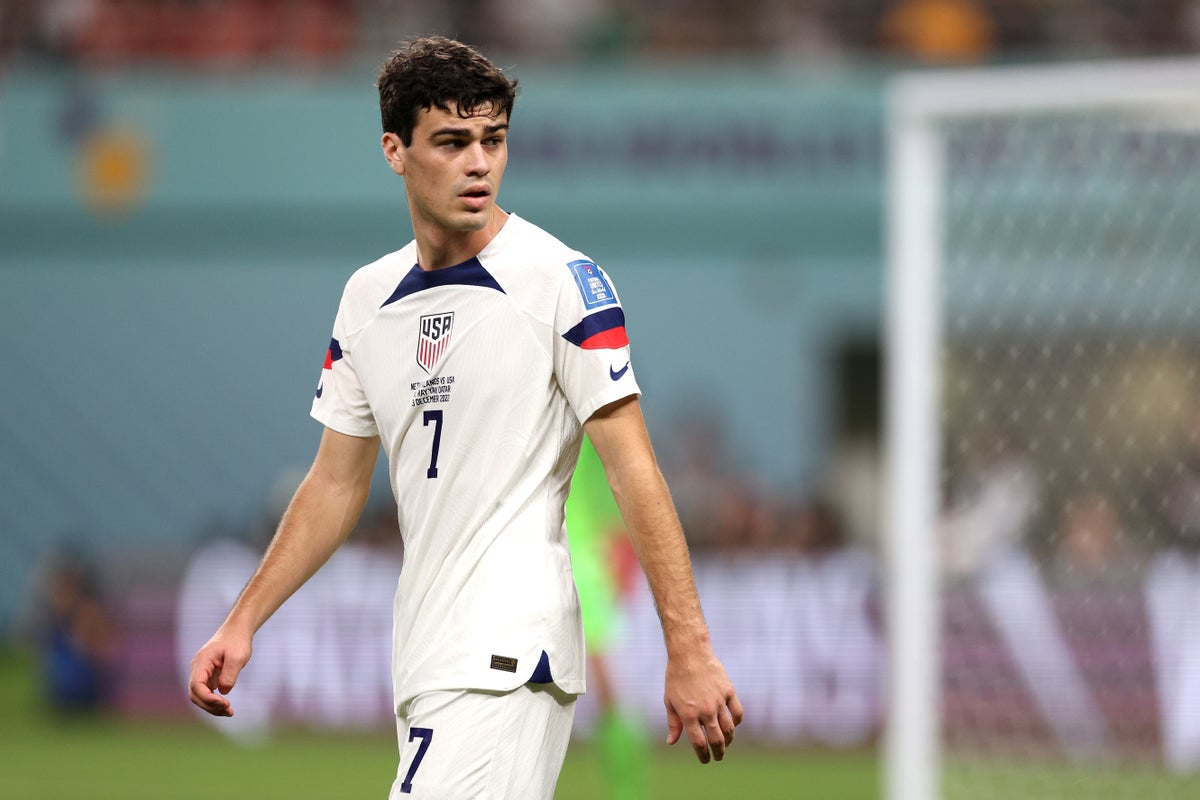 The mother of USA midfielder Gio Reyna has denied blackmailing national head coach Gregg Berhalter, but has admitted she leaked information to a US Soccer chief about an alleged assault by Berhalter on his wife in 1991.
Danielle Reyna said in a statement on Wednesday that she had been "outraged" by Berhalter's negative comments about her son Gio's behaviour during the World Cup last month, and admitted she called the sporting director of US Soccer, Earnie Stewart, on 11 December to say she had been "betrayed" by coach Berhalter, a man she knew well having roomed with his wife Rosalind in college during the early 90s.
Danielle Reyna admitted that in her conversation with Stewart, she brought up an historical assault by Berhalter on Rosalind, but Reyna added that she thought the conversation would remain in confidence. "I want to be very clear that I did not ask for Gregg to be fired, I did not make any threats, and I don't know anything about any blackmail attempts," she said in her statement.
Berhalter is no longer head coach of the US Men's National Team and is being investigated by US Soccer after he admitted publicly to kicking his wife of 25 years during an argument as a teenager. The governing body instigated the probe after Berhalter revealed that during the World Cup he had been the subject of a threat to expose the incident involving his then girlfriend Rosalind.
US Soccer has also widened the inquiry to examine "potential inappropriate behaviour" towards staff members from outside the organisation.
Berhalter admitted to kicking his wife in 1991 in a joint statement made together with Rosalind earlier this week. But Danielle Reyna claimed that his account "significantly minimise[d] the abuse on the night in question".
Berhalter has not responded to this accusation and The Independent has requested comment.
She added: "Rosalind Berhalter was my roommate, teammate and best friend, and I supported her through the trauma that followed. It took a long time for me to forgive and accept Gregg afterward, but I worked hard to give him grace, and ultimately made both of them and their kids a huge part of my family's life. I would have wanted and expected him to give the same grace to Gio. This is why the current situation is so very hurtful and hard."
The comments by Berhalter which so enraged Danielle – who is married to former US national captain Claudio Reyna, Gio's father – were a thinly veiled criticism of Gio's behaviour at the World Cup in Qatar, where he barely featured for the US team.
"In this last World Cup, we had a player that was clearly not meeting expectations on and off the field," Berhalter said in quotes published by Charterworks. "One of 26 players, so it stood out. As a staff, we sat together for hours deliberating what we were going to do with this player. We were ready to book a plane ticket home, that's how extreme it was.
"And what it came down to was, we're going to have one more conversation with him, and part of the conversation was how we're going to behave from here out. There aren't going to be any more infractions.
"But the other thing we said to him was, you're going to have to apologise to the group, but it's going to have to say why you're apologising. It's going to have to go deeper than just 'Guys, I'm sorry.' And I prepped the leadership group with this. I said, 'OK, this guy's going to apologise to you as a group, to the whole team.'
"And what was fantastic in this whole thing is that after he apologised, they stood up one by one and said, 'Listen, it hasn't been good enough, You haven't been meeting our expectations of a teammate and we want to see change.' They really took ownership of that process. And from that day on there were no issues with this player."
Berhalter's future as men's team coach is currently under review with his existing contract having expired, and Anthony Hudson will serve as head coach for their upcoming training camp in Los Angeles.
"With the ongoing investigation and US Soccer's full review of the USMNT program following the conclusion of the 2022 FIFA World Cup still underway, Hudson will be joined in Los Angeles by fellow World Cup assistant coach BJ Callaghan and Under-20 men's youth national team head coach Mikey Varas in selecting and managing the roster for the friendlies against Serbia and Colombia," a US Soccer statement read.
"In the past, the customary review of the past four years of the entire program following a World Cup would begin in the summer, well ahead of any year-end contract expiration.
"The unique November-December timing of the 2022 FIFA World Cup in Qatar significantly reduced the amount of time that the Federation would have to conduct a proper assessment prior to the end of the head coach's contract."
Berhalter, a college freshman at the time, went public over the incident with a statement released via an unverified Twitter account on Tuesday, later confirmed as genuine by US Soccer, and co-signed by his wife.
In it, he said: "One night, while out drinking at a local bar, Rosalind and I had a heated argument that continued outside. It became physical and I kicked her in the legs.
"There are zero excuses for my actions that night; it was a shameful moment and one that I regret to this day. At that time, I immediately apologized to Rosalind, but understandably, she wanted nothing to do with me."
The couple resolved their differences seven months later and recently celebrated their 25th wedding anniversary.
Commenting on the widened investigation, US Soccer said in a statement on Tuesday: "Through this process, US Soccer has learned about potential inappropriate behaviour towards multiple members of our staff by individuals outside of our organisation.
"We take such behaviour seriously and have expanded our investigation to include those allegations. We appreciate Gregg and Rosalind coming forward to speak openly about this incident. Consistent with our commitment to transparency, we will share the results of the investigation publicly when it is complete.
"US Soccer condemns violence of any kind and takes such allegations very seriously."
Additional reporting by PA