Romelu Lukaku appeared visibly upset because he had missed three clear-cut opportunities, and his nation had been eliminated from the World Cup. He vented his anger at the Belgian coaching staff.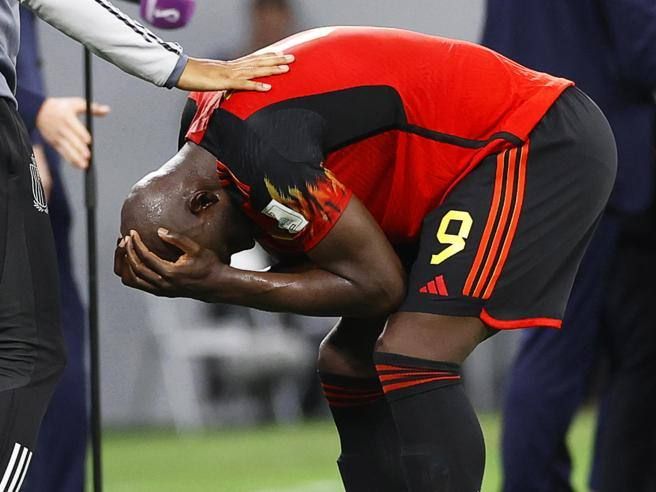 Lukaku missed several excellent chances to advance Roberto Martinez's team to the next round of the World Cup. Still, Belgium was held to a scoreless stalemate despite needing a victory over Croatia to advance to the round of 16.
Lukaku struck the dugout after the final whistle, shattering the plexiglass window, and needed to be comforted by Thierry Henry and the Belgian coaching staff. The Inter Milan striker, who was on loan from Chelsea, broke down in tears as he entered the tunnel.
As Belgium teetered on the verge of elimination, Lukaku entered the World Cup with a history of injury problems and could not face Croatia from the opening kickoff. He instead entered the action at halftime.
After being given an open goal, he immediately started his terrible second half of misses by firing a right-footed attempt off the post.
Soon after, he narrowly missed the goal from six yards out with his header, albeit Kevin De Bruyne's cross had already left the field of play, and the goal would not have counted.
When the ball quickly approached him late in the game, the 29-year-old blasted an attempt wide from four yards.
When Thorgan Hazard fired a cross to the far post three yards away, Romelu Lukaku mishandled the ball on his chest and let the opportunity go by. This was the greatest miss of the game.
Because they thought Lukaku wasn't prepared to play against Croatia, BBC Sports analysts felt sorry for him.
Didier Drogba, a former Chelsea striker, reacted to Lukaku hitting the bench by saying, "He's furious not just because he missed the goal, but also because of the team's spirit throughout this tournament." Discussions abound about player fights. More than the missed opportunities, this is what will make him angry.
He continued, we cannot hold someone accountable who has been hurt for two months. He ought to have been more alert as a striker, but you can't hold it against him.
"It will hurt him, said Alan Shearer, his fellow BBC pundit.
"They wouldn't have started him if he had been even close to being prepared. He provided them with a center of attention. They have been harmed by his limited playing time. You need to play more games to get the rhythm, said Drogba. I ponder whether one of these chances would have been converted if they had been a positive team with a positive energy."
'This is the type of goal (Filippo) Inzaghi would score, he would be on his toes,' Drogba said of his last miss, which bounced off Lukaku's chest. He is frustrated because of the talk of fights in the camp.'
Belgium's World Cup exit follows reports of a schism within the squad, including a spat between Kevin De Bruyne, Eden Hazard, and Jan Vertonghen following the 2-0 defeat to Morocco – a row that Lukaku was said to have started.
Romelu Lukaku's HAT-TRICK of missed chances against Croatia elicits a reaction from fans
Romelu Lukaku's three golden opportunities against Croatia to ensure Belgium's early World Cup exit was missed, sending fans on social media into a frenzy.
At halftime, the Inter Milan forward entered the game as Belgium teetered on the verge of group-stage elimination. Belgium knew they needed to defeat Luka Modric and company to move on to the round of 16. Within minutes, the No. 9 had two excellent chances to break the tie but passed up both, prompting Twitter users to express shock.
In an effort to score first, Roberto Martinez's team broke into the Croatia penalty area in the 59th minute. Just a few yards from the goal, the ball dropped to Lukaku, but the 29-year-old's right-footed shot could only hit the post.
A Kevin De Bruyne cross was floated onto the head of the former Manchester United and Chelsea striker two minutes later, but he could not connect with the ball and watched as it sailed over the crossbar.
When the ball dropped to him within the six-yard box in the dying seconds of the game, Lukaku had another opportunity to make up for his errors, but this time he was unable to capitalize.
The Red Devils were eliminated from the world cup due to their expensive misses.
After the missed opportunities, users attacked the replacement, with one fan writing: "Two howlers from Lukaku in two minutes."
Another bluntly stated, "Lukaku is actually a comedy."
One user simply stated: "Lukaku DISASTERCLASS" when making their criticisms.
One person referred to Lukaku's underwhelming cameo in Belgium's final group stage match as "a howler," according to the user.
One supporter questioned, "How has he overlooked that!?"
Lukaku has recently experienced thigh and hamstring problems, which has hindered his ability to contribute in Qatar. In Belgium's 2-0 loss to Morocco, he played for nine minutes despite Roberto Martinez's admission that he was cautious about the striker's fitness.
Romelu was only ever going to be able to play in the third game (against Croatia), and we will still do that, but he is progressing faster than expected. On Saturday, Martinez informed reporters.
Before the competition, Lukaku had only participated in two club matches since August because of thigh and hamstring problems.