One of the greatest footballers of all time, Cristiano Ronaldo, has been told by Manchester United to leave the club after a Piers Morgan interview. Ronaldo, who completed his Manchester United transfer in 2021, had a good spell last season before falling out with the club.
In an official statement released by the club, "The club thanks him for his immense contribution across two spells at Old Trafford, scoring 145 goals in 346 appearances, and wishes him and his family well for the future. Everyone at Manchester United remains focused on continuing the team's progress under Erik ten Hag and working together to deliver success on the pitch."
Cristiano Ronaldo's stats at Manchester United have been good, appearing in 346 games and scoring 145 goals at the club.
Ronaldo shortly released his statement, saying," Following conversations with Manchester United, we have mutually agreed to end our contract early.
"I love Manchester United, and I love the fans, that will never ever change. However, it feels like the right time for me to seek a new challenge." 
"I wish the team every success for the remainder of the season and for the future," he added. 
Fans' Reaction to the News
Cristiano Ronaldo, one of the most influential figures in the world, had an exclusive interview with Piers Morgan, where he released different information concerning what was happening at the club.
He said that the club "betrayed" him after his Manchester United transfer. That interview generated a lot of controversies, with many Manchester United fans supporting the interview and others rebuking him for some words he said.
In the recent news about his contract termination with the club, some fans are not happy with how Manchester United handled the issue. Others support the club calling the football maestro a snitch.
One of the fans tweeted, "You don't deserve Cristiano Ronaldo, he's a bigger player than Manchester United. When you come to Galatasaray, you will see the real Ronaldo. @ManUtd."
Another supported the club's decision, saying, "What a sad ending, he has burnt his legacy into ashes, selfish, greedy, dishonest, ungrateful player he is, he deserves this and more."
One couldn't hide his happiness, saying, "Thank god Ronaldo has left. Best thing for both sides and now we can concentrate on the team and not him complaining!"
The Interview that Broke Manchester United Ties with Ronaldo
Despite Cristiano Ronaldo's stats at Manchester United, Piers Morgan's interview broke the ties between the two sides. The interview had turned into a reveal-all where he spilled everything the public had to know about what was going on at Manchester United.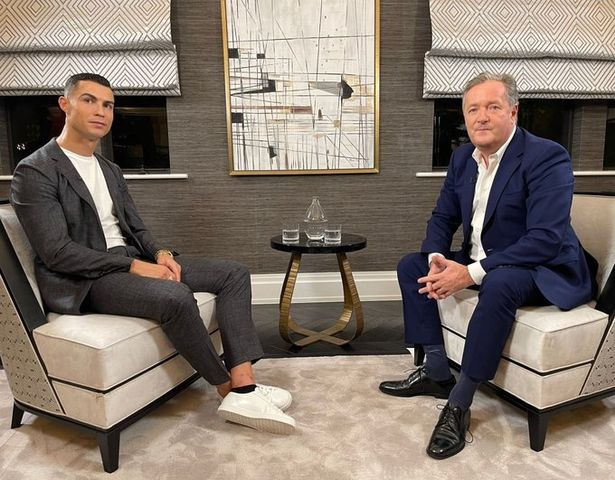 In the lengthy interview, Ronaldo talked about how the club disrespected him and how the youngsters at the club weren't doing very well.
When Piers Morgan asked him if the youngsters listened to his instructions, he said, "They listen, but it goes in one side and out the other side. It doesn't surprise me, but it is a shame because if you have a good example in front of your eyes and you don't copy, for me, it is kind of weird."
He also took a swipe at both his current and former manager — he said he was surprised when Manchester United bought a sporting director (Ralph Rangnick) as their manager.
Currently, the star player is the only player at the World Cup without a club. While Portugal hopes to spur the team to global victory, he would be looking to be part of another club soon enough. As his statement implied, he won't be considering retiring from football just yet.