Despite their on-field victory against the four-time World Cup winners, it was the supporters who won the hearts of many with a touching gesture.
Japanese football fans won praise on social media after cleaning up Doha's Khalifa International Stadium following their momentous win over Germany at the Qatar World Cup.
Ritsu Doan and Takuma Asano scored goals to give Japan a 2-1 victory over the four-time champions on Wednesday afternoon. This was a historic victory for Japan, who had fallen behind early on.
Germany took the lead in the first half thanks to a penalty kick from Ilkay Gundogan, and before Japan made a late comeback, Die Mannschaft missed numerous chances to extend their lead.
When Japan unexpectedly won, there were wild celebrations both on the field and at home, but the crowd was respectful afterward, with many fans sticking around to pick up trash.
After the crowds had dispersed, the supporters could be seen walking along the rows of the stadium carrying large bags, bending down to pick up used cups, bottles, food wrappers, and even discarded German flags. They were dressed in Japanese kits, scarves, and face paint.
The fans, nicknamed the "Samurai Blue army," bring their own big blue bags to the games and frequently wave them above their heads while the players are on the field. They take out brushes and rubbish pickers and clean up the area after the game.
Japan's sports supporters have made it a custom to help clean up the stadium after important matches. The athletes even cleaned their own locker room after the most recent World Cup in Russia and left a thank-you message.
When some Japanese supporters decided to see the inaugural World Cup game between Qatar and Ecuador on Sunday, they were already at it in Qatar before Wednesday's game.
In a group that appeared to be among the most difficult on paper, Japan's victory has significantly increased their chances of moving on to the World Cup's round of 16, where they will face either Spain or Costa Rica.
To ensure their chance of making it to the knockout rounds remains in their own hands, Germany will likely need to defeat Spain in the following game.
It was a day of refined gestures at the Khalifa International Stadium, where Germany's players protested FIFA's threat to penalize countries for wearing the "OneLove" rainbow armband in support of the LGBTQ+ community by posing for a team photo before the game with their hands over their mouths.
Videos circulating on social media showed Japanese fans filling rubbish bags with litter and rubbish from around their seats after the full-time whistle.
Such images have become commonplace at major tournaments and were also seen at the men's World Cup in Russia four years ago, garnering praise from around the world after their team was knocked out of the tournament by Belgium in the round of 16.
Cleaning up after themselves is an important part of Japanese culture imparted to young Japanese in childhood and youth. Now this agelong value draws admiration from the rest of the world. The Japan players were also praised for leaving their changing room "spotless" after the match.
One social media user, @kazki_reserve, commented with a Japanese proverb: "A bird does not foul the nest that it is about to leave."
Another Twitter user wrote: "Something that they always do even in their own stadiums. Part of the culture. And something others should do a lot more".
This being the age of social media, there is always critical to be found, and one user was quick to point out that the Japanese fans appeared to be using plastic bags to collect the rubbish. "It's great but look at the amount of plastic waste there is!" chrispeel28 tweeted.
"Their efforts are almost immediately undone by the damage the single use plastics they are clearing all of the other single use plastics into! Lovely sentiment but execution missed, perhaps not their fault."
In a wry nod to the more loutish English fan culture, J_Morgs8 tweeted: "No different to the England fans clearing away the chairs outside pubs in Europe."
This isn't the first time Japanese match goers have been seen providing their own complimentary clear-up service, having previously delighted onlookers by doing likewise at the 2018 World Cup in Russia, most notably after a 3-2 loss against Belgium in the round of 16.
What's more, Japan fans were even filmed tidying up litter and discarded flags at the opening game of the 2022 tournament, despite their own side not even being involved.
They really are the perfect guests.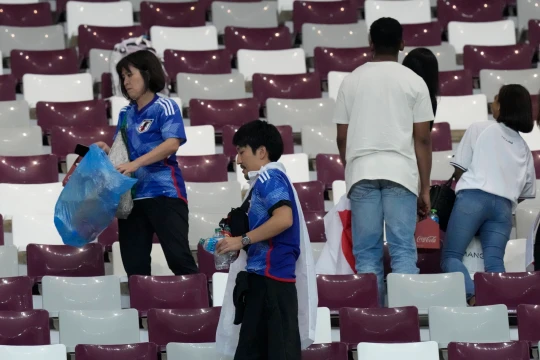 Japan's next Group E game is against Costa Rica on Sunday, followed by a match against Spain on Thursday, who thrashed the Costa Ricans 7-0 in their first game.
Some compliments the Japanese fans got on social media
@Carlton7102— 1996 at the Olympic Games, football match against Brazil: they also won 1-0. I saw them cleaning after the game and thought it was the euphoria or winning. It seems rather cultural. Maybe more folks should show that respect. The practically enslaved foreigners doing the cleaning in Qatar got a break. At least for that section of that stadium.
@John_u_jhwJ8WYb2D5E — Japan is an admirable country.  I have to give them respect for this.

@BillD831 — Class and respect.  Worth emulating.