Fans witnessed a total of slightly over an hour of added time in the World Cup's first four games. This is a result of the new rules that FIFA implemented for the competition in Qatar to give as many players as feasible playing time.
In England's opening 6-2 win against Iran, 14 minutes of added time were added on at the end of the first half, with another 10 coming at the end of the second. Similar durations were seen in the other games played on Sunday and Monday, with a total of 64 minutes being added throughout all four games so far.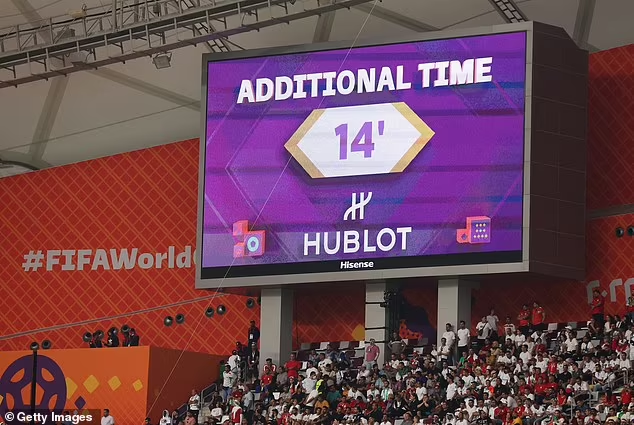 According to France Info, FIFA instituted these criteria to maximize "effective playing time," and despite the substantial increase in minutes, Jason Cundy and Jamie O'Hara aren't opposed to applying the new regulations.
We're going to see a lot of 100-minute games, I believe, O'Hara stated on talkSPORT's The Sports Bar. I don't mind that to a certain extent since how frequently the ball is out of play is insane.
"It's alright when you're winning 6-2 or 6-1, and then they score with the last kick of the game, but I don't know if I'm going to enjoy it when there's ten minutes added on in the quarter-final and we're 1-0 up."
Cundy added: "But does it give the viewer a neutral, 'oh my god something could change, there's ten minutes'. Not like the three we see in other games. I think what it's doing is adding a little bit more jeopardy to the game."
Former Italian referee Pierluigi Collina, who now chairs the referees' committee at FIFA, said on Friday: "We recommended our referees to be very accurate in calculating the time to be added at the end of each half to compensate for the time lost.
"What we want to avoid is matches lasting 42, 43, 44, 45 minutes of active play. This is unacceptable. Whenever there will be an incident like an injury treatment, substitution slot, a penalty kick, a red card, a celebration of a goal…
An enormous 27 minutes were added to England's 6-2 victory over Iran on Monday due to a head injury to Iran goalkeeper Alireza Beiranvand, knocks to Harry Kane and Harry Maguire, multiple substitutions, and five second-half goals.
While Davy Klaassen's goal for Holland against Senegal, at 98 minutes 17 seconds, was the second latest goal (not including extra-time goals) ever scored at a World Cup since Opta records began in 1966.
And that is second because Iran's Mehdi Taremi's penalty against England earlier on Monday came on 102 mins and 30 secs.
This has resulted in players – including Wales' Ethan Ampadu – collapsing with cramp, unable to continue, and with his side having no subs left due to the extra exertion needed.
Those two have become the latest goals scored at the World Cup finals since Opta's records began in 1966 (not including goals scored in extra-time, of course). World Cup referee Danny Makkelie warned there would be longer halves ahead of the tournament.
"You can expect longer halves, for sure," he said, as quoted by The Sun. "This is one of the topics we have spoken about. It will not be strange to see six, seven, eight minutes of extra time. We did this in Russia, and everybody was positive."
 It is unclear why FIFA is unwilling to pause the clock, like in rugby.
"A celebration may last one, one and a half minutes, so imagine in a half there are two or three goals scored, so it's easy to lose three, four, five minutes just for goal celebrations.
"This time has to be considered and compensated at the end. And, of course, the time lost to VAR intervention, by the way." It remains to be seen how much added time there will be in total to conclude the World Cup.
However, FIFA's new guidelines could very well help cut down on time-wasting during games, especially when a lot is at stake in the latter stages of the tournament.
Added time at the World Cup
Qatar vs Ecuador – 10 minutes
England vs Iran – 24 minutes
Senegal vs Netherlands – 10 minutes
Wales vs USA – 13 minutes
Total – 57 minutes (64 minutes actually played)