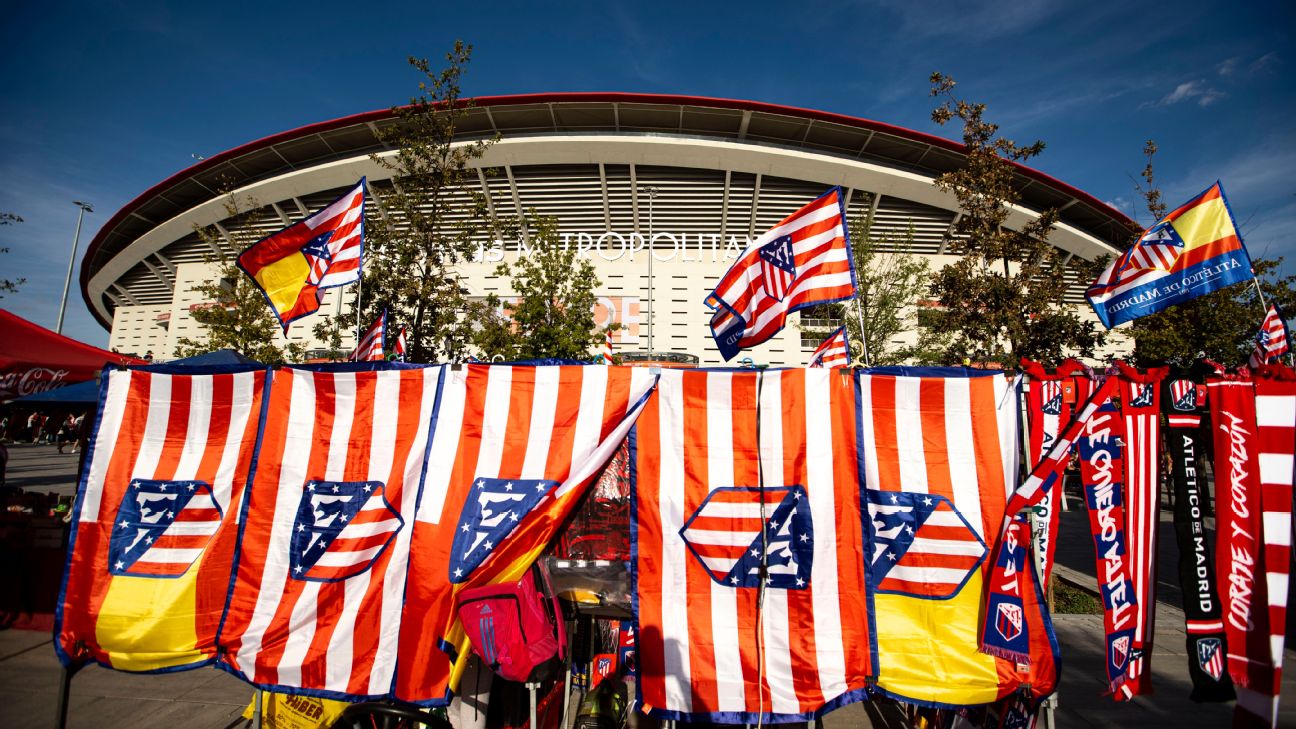 Atletico Madrid fans were filmed racially abusing Real Madrid's Brazil forward Vinicius Junior outside their Metropolitano Stadium ahead of the Madrid derby on Sunday.
Hundreds of Atletico supporters could be heard singing "Vinicius, you are a monkey, you are monkey" in a video published on social media by radio station Cope in the build up to the game that Madrid went on to win 2-1.
Local media also reported that monkey noises and chants of "Vinicius, die" were heard throughout the game.
Atletico did not immediately respond to a request for comment, but said on Twitter: "Support Atleti with passion and respect for opponents."
Following the match, Madrid goalkeeper Thibaut Courtois told ESPN: "Definitely there's no room for racism. It's really sad that those chants happen. Obviously it can be a minority of fans but it's a disgrace.
"We have to call it how it is, it's a disgrace. I hope that someone makes an appeal to the police to find out who those people are, there are cameras everywhere. Some people just don't understand what they're singing, that's the problem. Even for me, obviously there's nothing racist called to me, but if you stand behind the goal and you hear what I hear in a game it's not nice.
"There are kids who are six, seven, eight, nine years old and their parents are insulting me in the worst way. What education is that for your kids? I think that's the major problem in stadiums, because it feels like you come to a stadium and you can shout whatever you want without any consequences, and obviously if it's racism and it's heard by cameras or mics OK, maybe you can do something against it, but otherwise people come to the stadium and they throw things, they shout disturbing things, and that's the big problem.
"It's all about education, if I go with my kids and they say one bad thing like this in a stadium they're grounded for a month. But here it seems to be normal. I don't mean here at Atletico Madrid, I mean all over the world in every stadium you go as a rival, sometimes I'm shocked at what I see and hear behind my goal.
"It's kids, it's parents next to kids and that's a bad example, I hope as a future, as a society we can grow, because society is really getting worse and I fear for my kids and what kind of society we can live in if this continues."
Pedro Bravo, the head of the Spanish Football Agents Association, was criticised last week for saying Vinicius needed to stop "monkeying around" when celebrating goals, with a number of Brazilian footballers, including Neymar and Dani Alves, denouncing the comments as racist.
Bravo said that the comment was not intended to be interpreted as racist, and instead was just a common turn of phrase used in Spanish.
Vinicius and Madrid, however, both released statements condemning the racist abuse the player has suffered during in his career.
Vinicius and scorer Rodrygo celebrated Real's opening goal in the game by dancing in front of the Atletico fans as Madrid continued their perfect start to the season.
After the match, Vinicius tweeted a picture of him celebrating with his Selecao teammate Rodrygo, writing: "Dance where you want."
His international teammate Gabriel Jesus said earlier on Sunday that his dancing celebration for his goal in Arsenal's win against Brentford in the Premier League was dedicated to his friend.